"This really is uplifting and would make a perfect last track of the night"
***** SURE PLAYER DJ Magazine
"…driving mix weaving in and out of Kelsey's emotive vocal"
***** TOP TUNE IDJ Magazine
Multi-Platinum Artist Credits
For close to 30 years Gordon Hulbert has been working with the world's finest multiple-platinum artists, record labels, session musicians and DJs. From quirky pop such as Imogen Heap and Psapp to absolute legends such as Chaka Khan, The Temptations and Alexander O'Neal. Labels from Armada and Black Hole to Polygram/UMG and Universal Jazz, with DJs such as Tiesto, Fedde le Grand and Stonebridge using G's vocal productions.
Film, TV and Multi-Media Credits
Gordy has credits on many productions for TV and feature films, with his music featured regularly on some of the world's most popular shows. From prime time MTV, NBC and other top US networks, through to UK-based BBC, Channel 4, ITV and many other hit shows around the world. From the late 80s onwards, G was working on film productions for Willy Russell, Michael Apted and Trudie Styler, cutting his orchestrator's and sound designer's teeth.
Access To A-List UK Session Players
Over the years G has worked with members of Amy Winehouse, Rihanna, Massive Attack, Basement Jaxx, Ellie Goulding, Little Mix, Sigma, Chase and Status, Clean Bandit, George Michael, Take That, Blue, Boyzone, Chaka Khan, David Bowie, Tina Turner....YOU get the idea. Some of these musicians he's lucky enough to call friends, so when planning your recording, DON'T settle for mediocre. Ask G to book master musicians for your session!
Vocal Production
Gordon has worked with world-class vocalists such as Chaka Khan, Alison Limerick, Alexander O'Neal, Matt Goss, Anita Kelsey, Imogen Heap etc and is the perfect guy to have tracking your vocals. From matching the right mic to your voice to helping with complex harmonies, G has the patience, experience and technical know-how to help your session go fast, efficiently and enjoyably in a relaxed and encouraging environment.
Multi-Instrumentalist
Don't have the budget for a huge session roster for your recording? Gordy to the rescue! Not only does he cover the basics - guitar, bass, keys and great drum programming, he plays violin, viola and percussion too, giving budget-conscious clients an enhanced range of options for your recording - and all included at no extra cost in your overall music production fee. Check out the sounds below to hear his work...
World-Class Recording Chain
LMP uses iconic digital and classic analog gear such as the Lynx AD/DA converter, GML and Tube-Tech EQs, Urei compression, Mesa Boogie, Strymon and SansAmp FX to create a universe of fat, funky and downright dirty sounds. Recorded through classic high-end valve/tube gear such as Neumann and Royer mics, Neve pre-amps and the legendary Telefunken V72 mic-pre, your recordings are heading straight for the big league!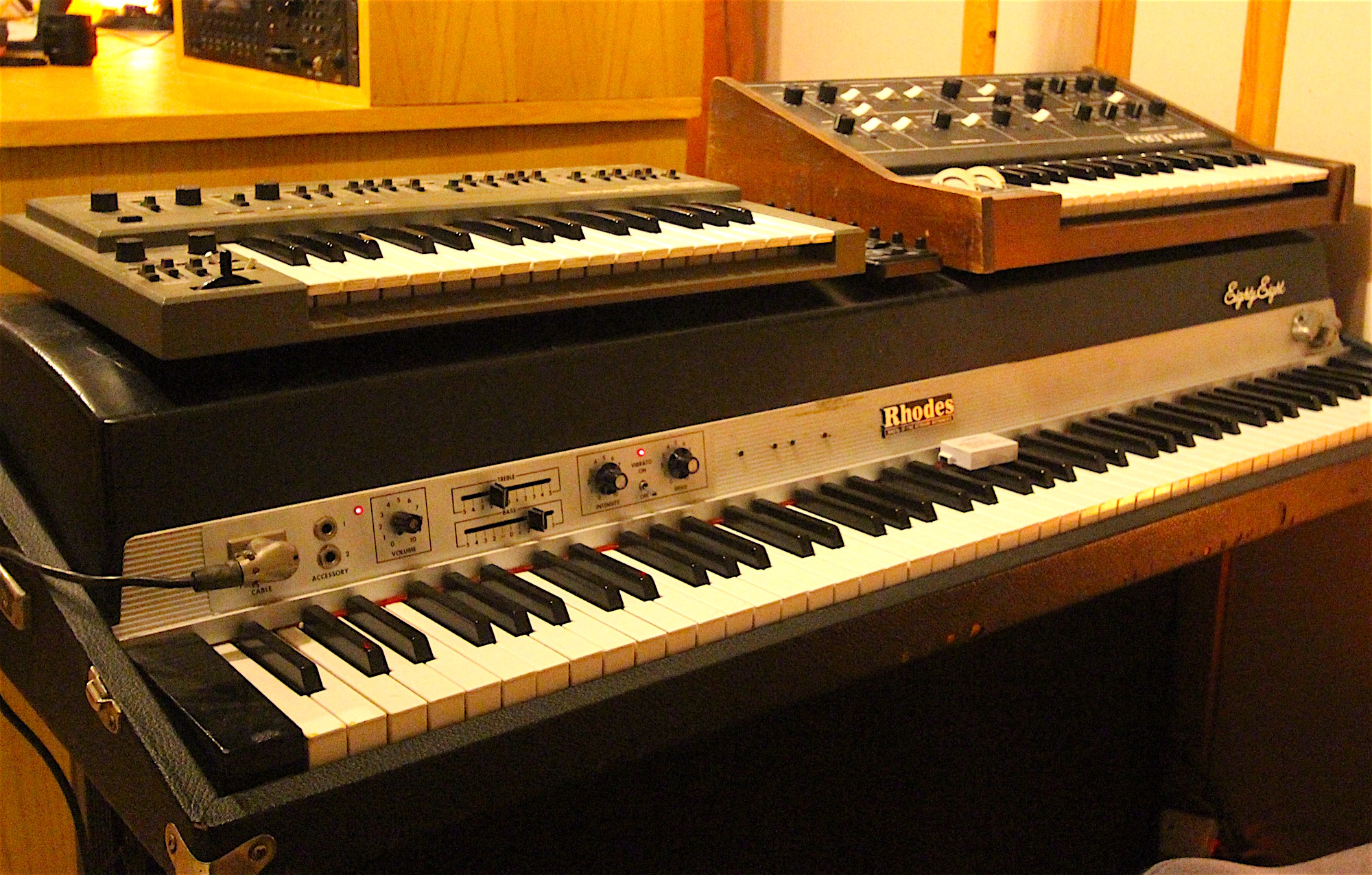 Electronics | Sound Design | EDM
If you're big on Electronic Dance Music, G has a wealth of credits and experience working with electronic dance labels such as Black Hole, Armada, N.E.W.S Belgium, Defected, Spinnin' and so on. From his recording studio here at London Music Producer, G has recorded for years with artists working with household names such as Frankie Knuckles, Dave Morales, Fedde Le Grand, Tiesto, Markus Schulz, Signum, Housequake, Stonebridge etc.
Songwriting/Composing/Arranging
Having trouble with that bridge? Need a brass or string arrangement to make your song sound like a real classic? Gordon can add his expertise to any project, thanks to a classical training with William Lloyd Webber (father of Andrew and Julian) and John McCabe. He has worked on orchestral projects by Burt Bacharach, Mort Shumann, Willy Russell and Russell Watson, so you can be sure of the quality of his work.
Whether you're a new act trying to create a distinct sonic ID, or an established artist looking for fresh ideas, Gordon at London Music Producer will work hard with you to achieve the sound in your head, and hone it to perfection. Whether you're a full band or a solo artist, he can work with you in your preferred studio or in his own recording studio in Notting Hill, West London, working songs up from scratch or polishing finished ones into the future hits you want them to be.
But don't just take our word for it! Have a listen for yourself...
A Small Selection Of Our Satisfied Clients
We Can Make Your Music Sound Like It Does In Your Head
Recording and Engineering
Capturing Your Unique Sound
High End State-Of-The-Art Equipment
Here at London Music Producer, we've chosen the most iconic pieces of gear to enhance your sound.
Electronic Programming
Synths and Sound Design for miles!
Cutting-Edge Sound Technology
Top producers from around the world have come to us to get our cutting-edge sounds on their productions. Now you can too!
Remote Productions
Send us your demo and we'll do the rest!
When You Can't Be At The Studio
Whether busy on other projects or based in another country, you can't always be there while your production is developing. Put yourself in our hands and get outstanding results from pros at the top of their game!
People who have used London Music Producer love us and we're humbled by their feedback. Thanks guys, we really love you too!
"
Gordon and I have worked together for over 30 years. G always gives full attention to every detail of performance and intonation whilst maintaining a safe and creative ambience in the studio. Careful with both vocal sound and grooves, fast on the drop and knows when to let the inspiration pony run and when to rein that puppy in. Gordon can understand the 'feel' of a groove, even when articulating that feel is tricky and is able to translate ideas into reality. Even long days in the studio leave me satisfied and eager to go again.

"
Alison Limerick
Singer/Songwriter
Recording artist with BMG, George Michael, Frankie Knuckles, Dave Morales, Courtney Pine, Vibraphonic, JTQ
"Gordon is quite simply a genius when it comes to music, playing, production and writing. I have known and worked with Gordon in live bands and in studios for many years and he's always a joy to work with - so quick and on the ball in the studio and when MD-ing bands (if something's not right, he will hear it for sure)! I will always recommend Gordon, he's so easy to work with, a great and friendly person with a whole lot of talent!"
Rita Campbell
Singer/Songwriter
Toploader, Michael McDonald, Westlife, Steps, Brand New Heavies, Stonebridge
"Gordon and I have been working together musically for a loooooooong time and every session is different, exciting and fun. We always come up with a bit of creative magic. So far as I'm concerned he's magic. That's right, BLOOMING MAGIC!
Jon Scott
Singer, songwriter, recording artist
"Gordon is a fine musician with great productions skills. He is focused, easy to work with and - very importantly, embodies a persevering, positive spirit, which results in fine work. A joy to work with. "
Steve Lambert
Creative Composer
UMPG, Sony ATV, Focus Music
"
Gordon is a multi talented musician and producer.

I've been employing Gordon's skills

for probably 15 years now and I can honestly say that he is one of the best. He approaches every song and production with an unbridled passion and professionalism. 

He is meticulous when it comes to detail, with the very enviable skill of being able to create outstanding song arrangements with incredible orchestration. And to top it all off, his vocal production is to die for! 

If you're looking for that wow factor in your productions or sessions

and someone that understands your language,

 Gordon is the definite 'go to' in my opinion.

"
Paul Jones
Drummer/Songwriter/Producer
Labrinth, Sigma, Ellie Goulding, Rahsaan Patterson, Don Blackmon, Mica Paris, Imagination
"Gordon is consistent, enthusiastic, knows his stuff and has delivered my songs to a high standard for years, ready for pitching."
Nicola Philo
Songwriter
Eurovision, UK Songwriting Contest contest gold winner.
"Gordon is a highly qualified, experienced and talented musician/songwriter/producer who combines a very high level of technical musicianship with a full awareness of technical and creative advances in music, which, combined with his natural talent, make him a very powerful resource indeed. He is also extremely professional in all respects. Fully recommended without reservation"
James Winchester
writer and producer, Notting Hill Music
label manager and director at No Prisoners Productions
"Gordon is one of the best all round musicians I've had the pleasure of working with. He is a brilliant piano/keyboard player as well as having lots of experience being a backing vocalist and a musical director. Gordon also runs a great studio and his knowledge of the recording side of the business is vast. Most of all, Gordon is great to work with on a professional or social level."
Dave Land
Trumpet and Flugel player
Fatboy Slim, Nik Kershaw, Katrina And The Waves, The Three Degrees
"Before I gave up singing, I was a top line writer and vocalist for dance acts like Tiesto, Stonebridge, Housequake, Markus Schultz, and D*Note. I always recorded my vocals with Gordon Hulbert at London Music Producer. No-one else in the business could get the sound I was after. He knew exactly how to get a good performance out of me and always made my vocals sound awesome. Friendly, fast, professional and with a wealth of production skills and versatility of styles, I have no hesitation in recommending Gordon to anyone who's after high quality production work - whether musically or for vocals. He truly is one of the best"
Anita Kelsey
Singer/Songwriter
UMPG, Tiesto, Signum, D*Note, Kings of Leon, Razorlight, Sunship and the Spice Girls